Highly Skilled Care for Complex Cases
Internal Medicine
Pets suffering from chronic, complex conditions, such as gastrointestinal (digestive) problems and endocrine-related disorders, need experienced care to help manage their symptoms and improve their quality of life. We can help.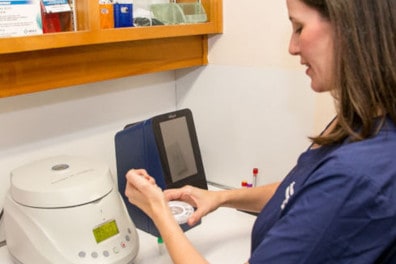 The doctors and entire staff at South Seminole Animal Hospital are committed to providing you with the support you need when it comes to helping you manage your pet's condition. We will patiently teach you how to properly measure and administer your pet's medications, thoroughly address any questions or concerns you might have, and explain other measures you can take at home to improve your pet's comfort.
Examples of complex conditions that we treat include:
Diabetes
Kidney failure
Hyperthyroidism
Chronic GI conditions that cause diarrhea, vomiting, regurgitation
Hormone related conditions such as Cushing's disease and Addison's disease
Many of these conditions contribute to early organ failure and, therefore, affect quality of life if left untreated. Regular bloodwork to check for any changes or progression of the disease is imperative. With careful monitoring, proper treatment, and appropriate home care, your pet can live a long, happy life.
Watch for New Symptoms
Problems that would seem minor in an otherwise healthy pet can significantly impact pets with chronic conditions, so we encourage you to give us a call if you spot any new or unusual symptoms. We are here for you and your pet every step of the way, and we'll do everything we can to help you optimize your pet's quality of life.
Please call us anytime to discuss your pet's condition.